5100 Tamiami Trail, Port Charlotte, FL 33980
In 1905, Clarence Bloomfield Moore (1852-1936), a wealthy, amateur archaeologist from Philadelphia excavated a mound located on the northern bank of the Peace River about one half mile north of this site. Moore found the sand burial mound containing bones and pottery sherds dating the mound to the Safety Harbor period (A.D. 900-1725). The Timucua Indians, part of the Safety Harbor culture, lived along the central Gulf coast of Florida. Moore noted that the mound had been badly disturbed prior to his excavation. Early settlement of the Hickory Bluff area may have been the cause of the mound's disturbance. Today there is no evidence of the sand mound.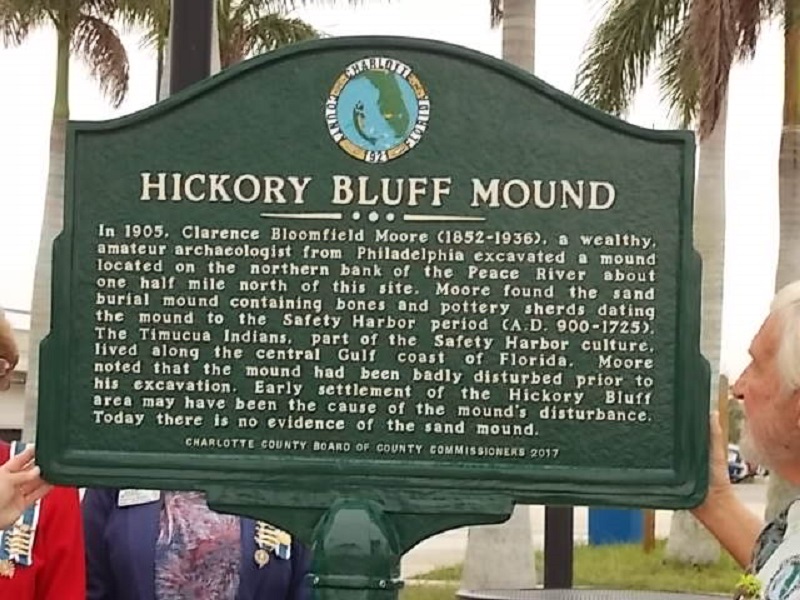 Charlotte County Historical Marker: Application approved by the Historical Advisory Committee on December 14, 2016. Marker cost sponsored by the Hickory Bluff Chapter of the National Society of the Daughters of the American Revolution. Dedication ceremony held on October 9, 2019 at Live Oak Point Park, 5100 Tamiami Trail, Port Charlotte, FL 33980.