1688 Gasparilla Road, Port Charlotte, FL 33981 In 1905, the Charlotte Harbor and Northern Railroad (CH&N) built a depot and section house along its rail line from the phosphate mines at Mulberry to the port of Boca Grande. The CH&N Railroad platted the town of McCall in 1909 and named it for C.B. McCall, the general freight and passenger agent at Boca Grande. The section house was home to the section foreman and his family. More houses were built for other railroad workers and their families. A bunkhouse was built for the single men. This cluster of buildings was the beginning of the town of McCall. The town soon contained a turpentine camp, sawmill, store, post office, one-room school house and two churches. Trains would stop and take on water for their boilers from a nearby pond. By 1928, McCall was a non-stop station and cattleman Arthur "A.C." Frizzell purchased the railroad property, demolishing most of the buildings. The McCall Section House was the last remaining structure left standing until it burned down in 2004. The intersection of County Road 771 and State Road 776 is the only visible remnant of what was once the town of McCall.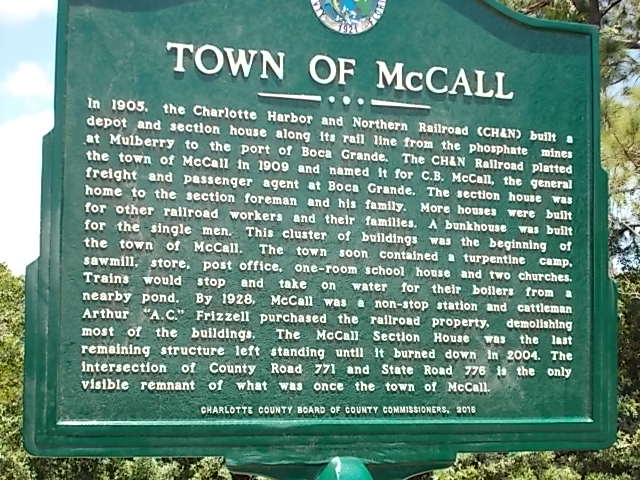 Charlotte County Historical Marker: Application approved by Historical Advisory Committee and Charlotte County Board of County Commissioners in December 2015. Dedication ceremony held on April 26, 2017.