Project Description
This project consists of a bathymetric survey and design project followed by a limited spot dredge event of problem areas within the canals of Harbour Heights. It was initiated by requested from the MSBU Advisory Board. They expressed concerns of sediment buildup and restricted navigation in critical areas within the system, like at the entrances to the canals and on curves and intersections. These restricted depth areas were identified with use of the 2020 pre-storm bathymetric survey that was performed. The Advisory Board passed a motion approving this engineering design project as well as the spot dredge to fit within their budget. County staff identified proposed limits within these waterways with the greatest need for dredging and is working with the county consultant engineer to plan a spot dredge event that will be both beneficial and fit within the prescribed budget. The target dredge depth is -4' Mean Low Water and dredging will include approximately +/- 3500' of canal accumulatively. County wide permit exemptions are in place for this activity and only notice of exempt activity should be required to be submitted to the State and Federal agencies. This project is being funded solely by the MSBU. The intent is to benefit all within this MSBU area and to restore access and safe navigation.
Project Location
Harbour Heights waterways, San Marino, San Salvador, Santa Barbara, Dover, Santa Clara, Desoto, and Balboa canals.
Project Impacts
Improved access in and out of canals.
Latest Updates
The county project management has received final design construction plans and specification for this spot dredge survey. They have been reviewed and approved and a purchase request was sent into the Purchasing Department to bid the dredging project. The MSBU Waterway Advisory Board was just updated on the status of the project and had no additional requests. Purchasing and bid timing can vary but it's expected that bids will be received by July. Once a contractor is selected and awarded a pre-construction meeting will be held where and notice to proceed date will be agreed upon.
Budget
| Phase | Cost |
| --- | --- |
| Design | $59,700.00 |
| Construction | $100,000.00 |
| Total Budget | $159,700.00 |
Funding source(s):
Harbour Heights Waterway MSBU
Schedule
| Phase | Estimated Start Date | Forecast Completion | Actual Completion |
| --- | --- | --- | --- |
| Planning and Approval | 01/14/2021 | 04/22/2021 | 04/22/2021 |
| Design Development | 07/08/2021 | 01/03/2022 | 05/09/2022 |
| Construction | 07/01/2022 | 11/01/2022 | |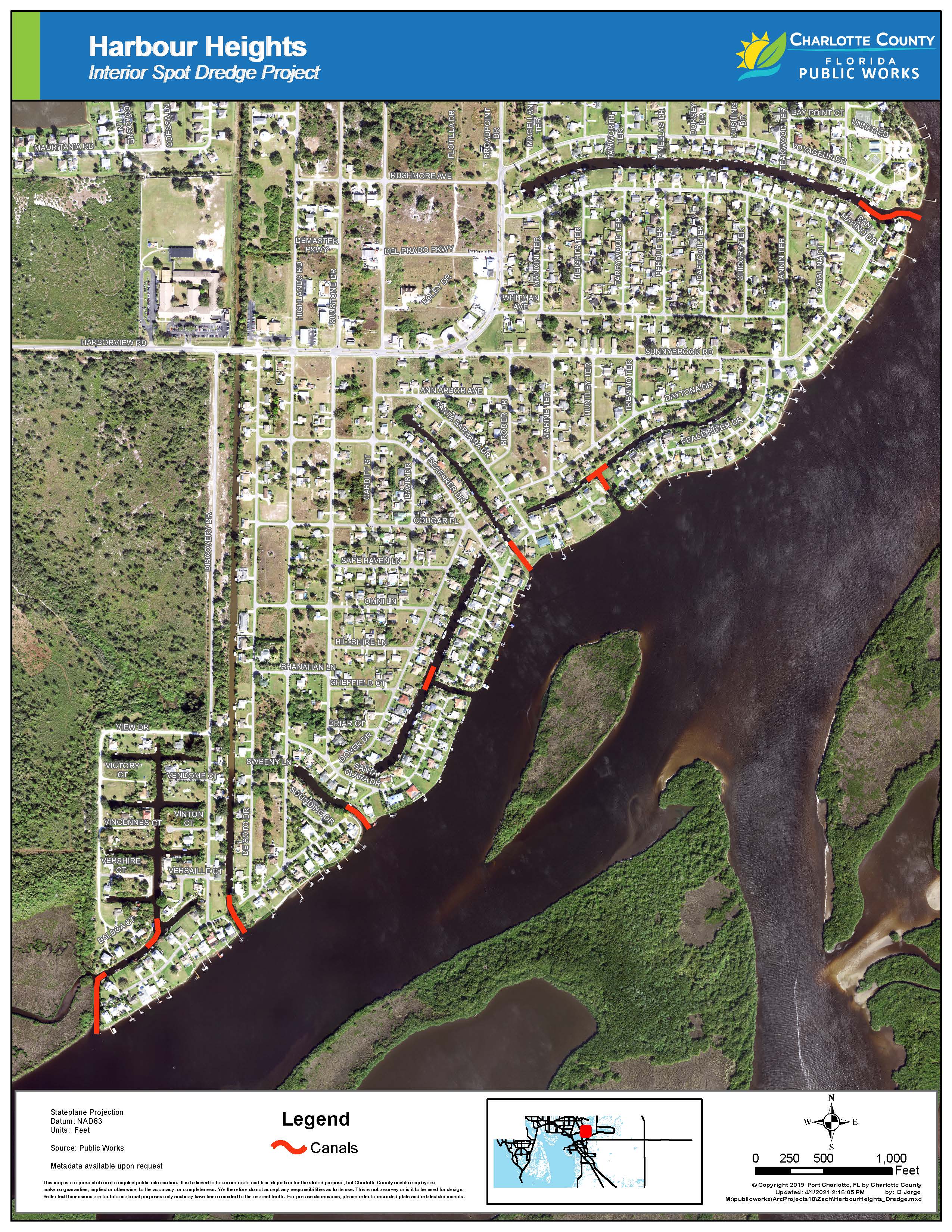 Project Phase
Construction
Project Manager
Zach Patchell
Sponsor Department
Public Works
Design Engineer/Architect
Johnson Engineering
Construction Contractor
TBD