Project Description
This Engineering project consists of surveying, permitting, and design of a maintenance dredge project for the Hayward Waterway canal system, which includes the main channel and the interior canals. This project has been initiated by request of the citizens of the Hayward Waterway MSBU. Funding for the dredging of the access channel and main canal is through WCIND grant funding. The finger channels have been removed from this scope due to MSBU funding constraints and are being planned for a future project. The purpose is to restore depth and width, providing safe navigation to and from the public boat ramp. This canal / channel system has a history of maintenance dredging of which last occurred in 2017. Dredging is projected to go out to bid late summer of 2021.
Project Location
Hayward Waterway System, El Jobean, Hayward canal.
Project Impacts
This project will result in improved access between the El. Jobean boat ramp and the Myakka River.
Latest Updates
Due to the impacts of hurricane Ian the Hayward canal dredge project is currently on hold. The county had to ask Sea and Shoreline to pause dredging operation until the county can initiate the post storm debris removing contract. The contract will start with the navigable waterways and will start in the Hayward canal system to get this active dredge project up and running again. The debris removal contract needs to be complete to make it safe to navigate the waterways as well as not affect the project quantities of the current dredge project. Sea and Shore are currently working on storm related work in SW Florida and is working closely with Charlotte County staff on how and when we can get this project started again. Sea and Shoreline has dredged approximately 1500cy of sediment out of the Hayward to date which accounts for approximately half of the shoaling within this project. Upon return a post dredge bathymetric survey will be conducted to determine the exact amount of material dredge and where rework will be required, also if there are any new changes. It is anticipated at this time the dredging will resume sometime in November.
Budget
| Phase | Cost |
| --- | --- |
| Design | $39,700.00 |
| Construction | $182,248.50 |
| Total Budget | $221,948.50 |
Funding source(s):
Hayward Waterway MSBU, WCIND grant funding
Schedule
| Phase | Estimated Start Date | Forecast Completion | Actual Completion |
| --- | --- | --- | --- |
| Design Development | 01/15/2019 | 12/01/2021 | |
| Construction | 05/23/2022 | 09/01/2022 | |
| Turnover & Closeout | 09/02/2022 | 09/05/2022 | |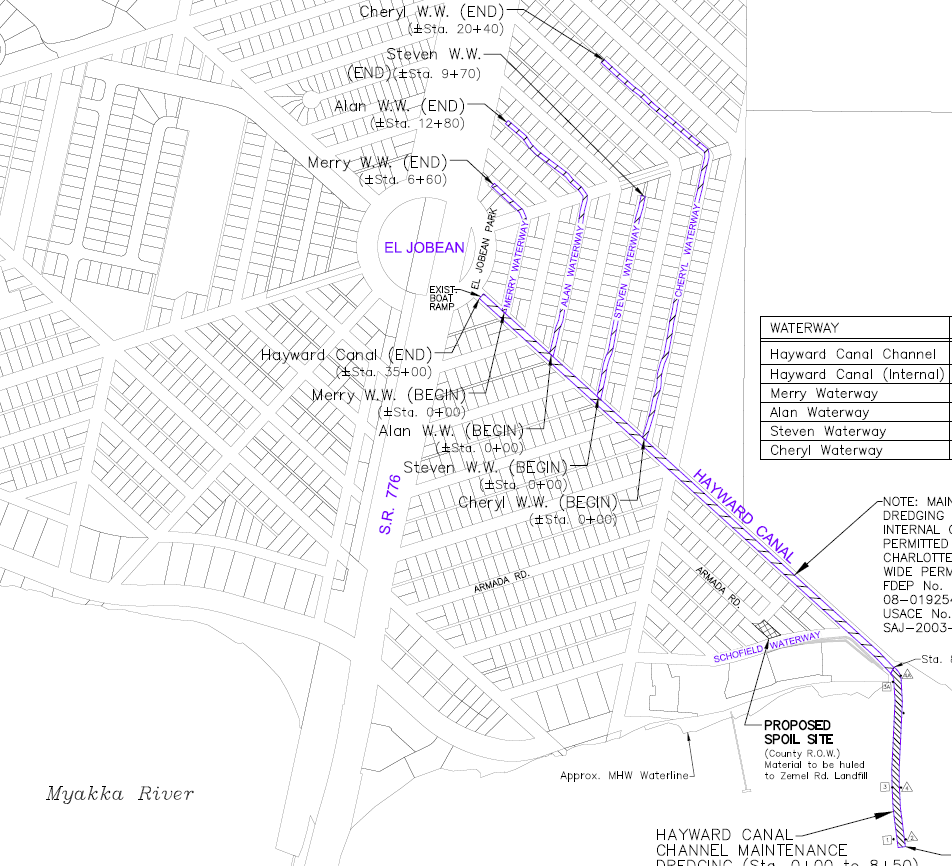 Project Phase
Construction
Project Manager
Zach Patchell
Sponsor Department
Public Works
Design Engineer/Architect
Johnson
Construction Contractor
TBD