Project Description
The residents have requested and received dredging of the access channel. This was accomplished in 2015. Since the previous dredge, concerns have been brought to the County's attention about shoaling inside the access channel and turn basin to the SGC waterways. The SGC waterway MSBU requested and is funding this project. Johnson Engineering was the selected firm for the engineering design of this maintenance dredge project. Johnson will layout, survey, design, plan, and apply for all agency permits/exemptions. They will be conducting a construction oversight inspection as well, once the construction of the project begins. The goal is to identify the amount and limits of the shoaling within the cut channel. Then progress with the maintenance dredging to restore previously permitted dimensions of the access channel and turn basin, and to restore safe navigation once again.
Project Location
The access channel from the Charlotte Harbor to the Butterford waterway, access to the SGC community canal system. This access channel and turn basin leads vessel traffic right to and from the SGC Lock.
Project Impacts
The end result of this design will be improved access and safer navigation.
Latest Updates
Marine Contracting Group has completed the dredging for this project. Management conducted site inspections and the Engineer had post- dredge bathymetric surveys completed. The survey showed a substantially completed system but did show evidence for a need to rework the east slope of the channel and basin. MCG performed some cleanup dredging and county management performed some additional site inspection, verifying the work was completed within tolerance. All material has been trucked to the county landfill. The upland spoil site has been restore and the project is now complete. We are currently in the closeout period.
Budget
| Phase | Cost |
| --- | --- |
| Engineering | $45,000.00 |
| Construction | $96,285.00 |
| Total Budget | $141,285.00 |
Funding source(s):
South Gulf Cove Waterway MSBU
Schedule
| Phase | Estimated Start Date | Forecast Completion | Actual Completion |
| --- | --- | --- | --- |
| Planning and Approval | 05/01/2020 | 09/30/2020 | 09/25/2020 |
| Design Development | 09/25/2020 | 09/27/2021 | 12/01/2021 |
| Construction | 02/22/2022 | 06/27/2022 | 05/10/2022 |
| Turnover & Closeout | 06/28/2022 | 06/29/2022 | 06/01/2022 |
Supporting Materials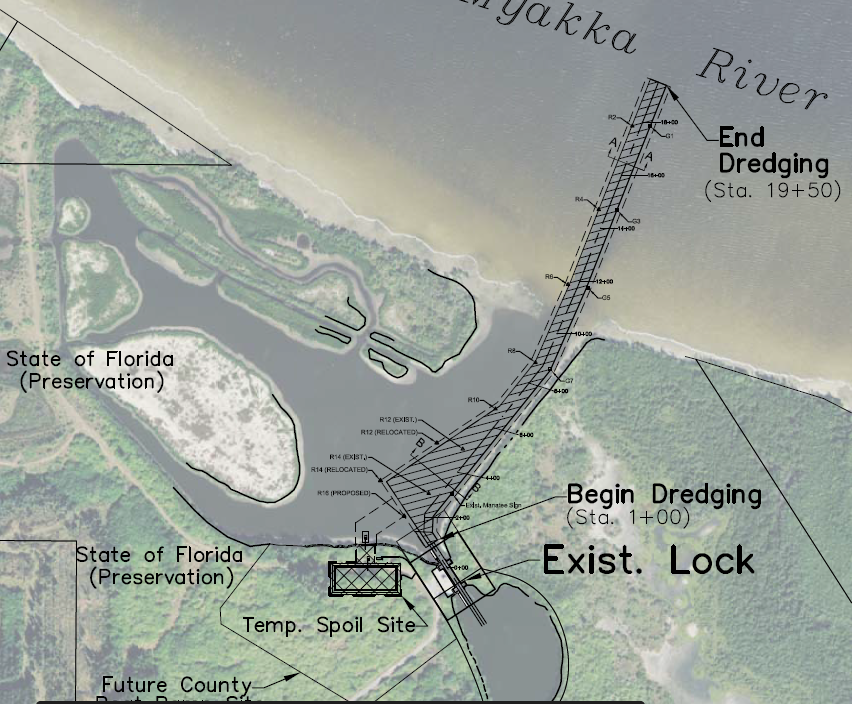 Project Phase
Turnover & Closeout
Project Manager
Zach Patchell
Sponsor Department
Public Works
Design Engineer/Architect
Johnson Engineering
Construction Contractor
Marine Contracting Group