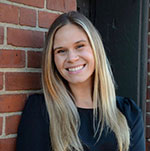 Breanna is originally from Plymouth, Massachusetts. She earned her Bachelor's degree in Communication, Film & Media and has a Master's Degree in New Media & Marketing.
Growing up in a small town that relied heavily on tourism, Breanna learned early the importance of being an ambassador in your own community. She wanted to work for Charlotte County Community Services because she wanted to play a role in making the community she lived in a great place to be.
Breanna is passionate about sharing the Community Services brand story while highlighting all that our division has to offer. Her goal is to bridge the gap between Community Services and community members. Her goal is that all Charlotte County residents and visitors are familiar with the programs and facilities available to them right in their own backyard.