Public Works Maintenance and Operations Division is dedicated to sustaining Charlotte County's roadways and right-of-ways.
Report a road or drainage issue.
Traffic Signals
The county maintains over 100 signalized intersections, 52 incident management cameras, 16 complete microwave detection systems, 60 complete video vehicle detection systems and 75 miles of buried fiber optic communications' infrastructure. This maintenance includes:
School Flashers
Rectangular Rapid Flashing Beacon (RRFB)
Pedestrian Crossings
Traffic Signs and Markings
Traffic control devices and markings are maintained throughout the county on maintained roadways. This maintenance includes: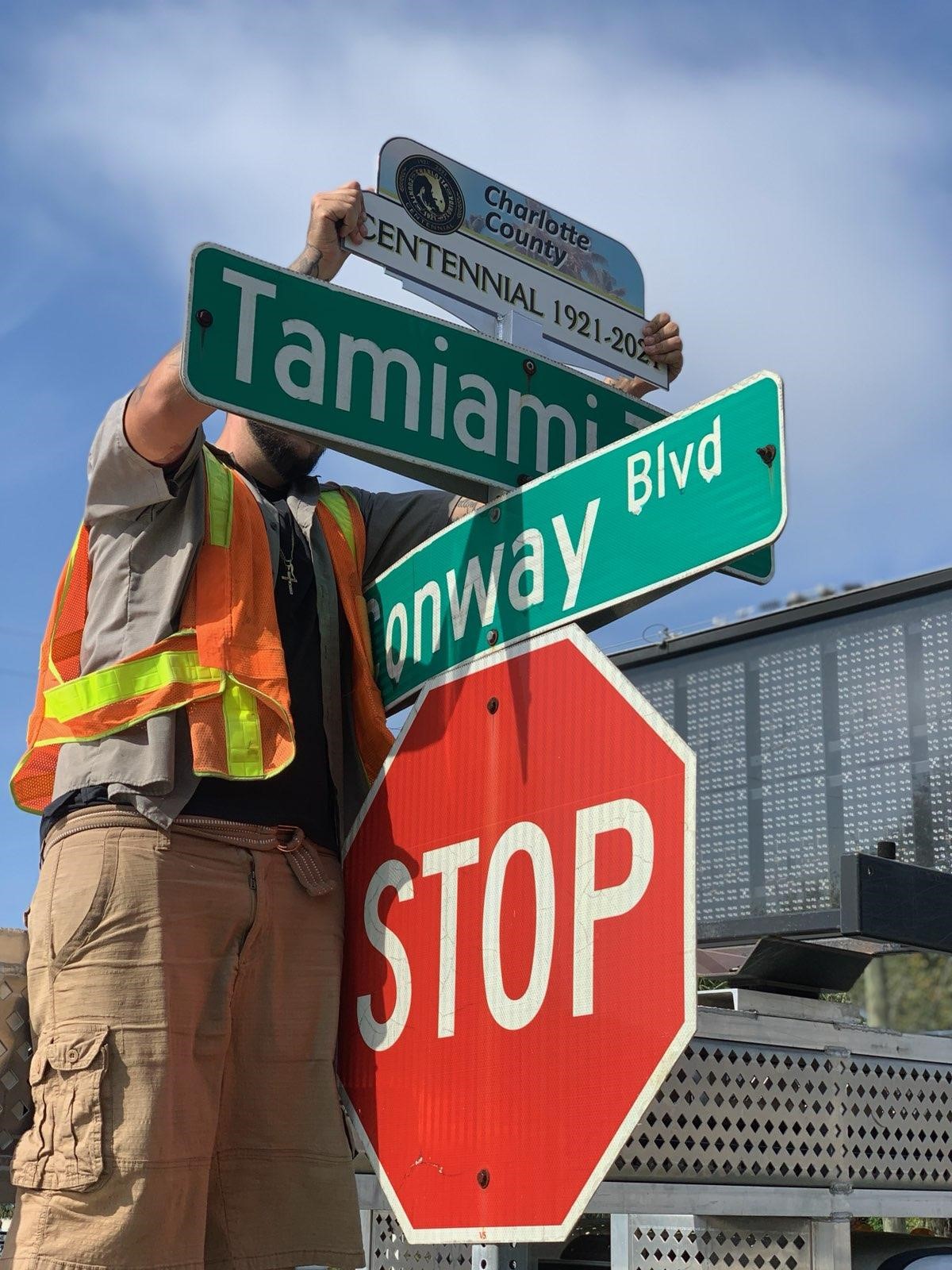 Replace faded or damaged signs
Install Signs
Fabricate new signs
Road Striping
Raised Pavement Markers
Traffic Calming
Marine Navigation
Charlotte County maintains aids to navigation in local navigable waterways. This maintenance includes:
Replace faded or damaged signs
Install Signs
Buoys
Removal of hazardous debris
Streetlights
Residential Streetlights
An online request for residential streetlights may be submitted to the Charlotte County Lighting District. Upon receipt of a request, the proposed location must meet all four criteria set forth by the Board of County Commissioners:
At least 300 feet from an existing residential streetlight and
A direct source of electrical power is readily available at the proposed location and
The proposed streetlight will benefit at least three dwellings in a cluster (across the street, next door, etc.) A cluster is determined by taking four lots on each side of the street and three dwellings being within those lots and
The requester must be the owner of the property and live in the immediate vicinity of the proposed streetlight location.
Residential streetlights concerns may be reported to Florida Power and Light (FPL) Streetlight Report or Lee County Electric Cooperative (LCEC) Streetlight Outage.
Major Roadway Streetlights
The Lighting District maintains approximately 2,200 roadway lights along major roadways throughout the County. Several examples of major roadways are US41, State Road 776, Placida Road, Winchester Boulevard, Kings Highway, Veterans Boulevard, Edgewater Drive, Burnt Store Road, US17, Midway Boulevard, etc.
Report Major roadway streetlight concerns online.
Drainage
Public Works ensures drainage systems work as efficiently as possible when facing unique challenges from large amounts of rainfall, flat terrain, and proximity to sea level.
Drainage requests are prioritized based on the following factors:
Stormwater threatening personal property (flooding homes)
Stormwater over the road and/or sidewalk
Stormwater in a drainage swale
Drainage Pipes
Drainage pipes in the county maintained right-of-ways are maintained by Public Works. This maintenance includes:
Clearing clogged driveway or road crossing pipes
Replacement of damaged or broken pipes
Installation of pipes
Roadways
Roadway maintenance includes:
Potholes
Edge of pavement/shoulder repair
Guardrails
Street Sweeping
Regular sweeping is a contracted service that is performed on roads with a curb and gutter stormwater drainage systems. This service assists in the prevention of roadway pollution in our Stormwater Management system.
View the Street Sweeping Map and Schedule Book.
Sidewalks
Public Works ensures the county's sidewalks are maintained properly.
Brush
Public Works ensures the county's right-of-ways are clear of brush, tall grass, or any other vegetation obstructing the line of sight that could be deemed as a hazard.
Right-of-way Reclamation
Right-of-way Reclamation is a contracted program throughout Charlotte County that trims and mulches vegetation along roadways.
Right-of-way Mowing
Right-of-way mowing is a contracted service that includes unimproved right-of-ways throughout Charlotte County. This type of safety mowing is for motor vehicle visibility and occurs approximately 5-7 times per year.
Details about mowing schedules for North County, South County and West County.
​Report an Issue
Report an issue (with a photo) or Call 941.575.3600:
Identify the exact location
Provide a detailed description