Mission: To provide safe, reliable drinking water, reclaimed water and wastewater service for the enrichment of the community. We are proud of the wide range of exceptional services that we provide our customers 24 hours a day, 7 days a week, all 365 days a year!
If you have a water or sewer emergency, please call us day or night at 941.764.4300 or toll-free 800.524.3494 if out of the area. We have a 24/7 response service.
Regular customer service phone hours: 8:30 a.m. to 4:45 p.m. Monday–Friday (except holidays).
Customer Support Center: 8:30 a.m. to 4:30 p.m. Monday–Friday (except holidays).
Temporary customer payment center will open starting Tuesday, Dec. 13, at the Murdock Administration Center, 18500 Murdock Circle, B109, in Port Charlotte, Monday–Friday 9 a.m., to 4 p.m.
---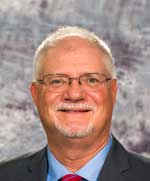 Dave Watson
Utilities Director
Dave Watson serves as the director of Utilities and oversees all divisions, staffing and projects.