Project Description
The scale house at the Zemel Road Landfill is currently a trailer nearing end of expected usable lifecycle. Additionally, not compliant with the County's Ordinance of not utilizing trailers as permanent operations. The project would move the physical location of the scale house and its ancillary functions of a convenience center and household hazardous waste. The project will also streamline the flow and control of traffic in and out of the landfill.
Project Location
29751 Zemel Road, Punta Gorda
Project Impacts
Weather
Latest Updates
Certificate of Occupancy was issued on November 27, 2023.
Budget
| Phase | Cost |
| --- | --- |
| Design | $250,000 |
| Construction | $5,268,042 |
| Total Budget | $5,518,042 |
Schedule
| Phase | Estimated Start Date | Forecast Completion | Actual Completion |
| --- | --- | --- | --- |
| Planning and Approval | 02/19/2018 | 02/20/2020 | 03/20/2020 |
| Design Development | 06/09/2021 | 06/08/2022 | 07/06/2022 |
| Construction | 12/29/2022 | 11/30/2023 | |
| Turnover & Closeout | 12/29/2023 | 01/30/2024 | |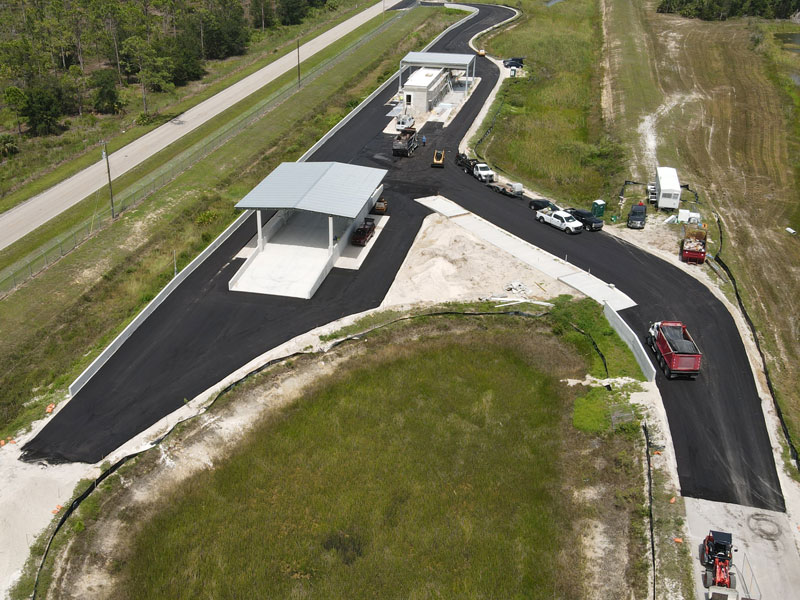 Project Phase
Planning and Project Approval
Project Manager
Pedro Agosto
Sponsor Department
Public Works
Design Engineer/Architect
CA3 Architect
Construction Contractor
WILLIS A. SMITH CONSTRUCTION