Project Description
Since the last maintenance dredge of a portion of the Pirate Harbor access channel in 2019 new concerns for a need of dredging were brought to the county's attention. This project will pick up just east of where the last maintenance dredge event left off in the access channel and will in continue east into the systems connector channels. The interior finger canals don't require and are not receiving dredging this event. Most if not all of this project falls outside or west of the governance meander line and is considered aquatic preserve, which means this work is not covered at large by the county wide maintenance dredge exemptions that are in place. Requiring that new maintenance dredge permits are obtained from both US Army Corps of Engineers and FDEP. County consultant Coastal Engineering Consultants will survey and design a project to fit within the proposed limits and to fall within the MSBU budget. The MSBU waterway advisory board approved this project and the funding for it. Along with designing this project CEC will apply and secure permitting for this maintenance dredge event. Once in place this project will go to bid to secure the service of a marine dredging contractor. The target area will receive a dredging and will include construction oversight by both the county and the county consultant. The project will be certified complete through post dredge bathymetric surveys. It is anticipated that permitting may take a year or more to obtain.
Project Location
Portions of the Pirate Harbor access entrance channel and connector canals with the waterway system.
Project Impacts
Improved and safer navigation
Latest Updates
Coastal Engineering Consultants and county staff has finally received the Army Corps Dredge Permit required to move forward with the planned dredge project. CEC also finalized the post Ian bathymetric survey work and submitted an assessment to county staff reporting minimal impacts caused by the storm. Those impacts are too insignificant to be worth application to FEMA. County project management reported those results to the MSBU waterway advisory board and the recommended moving forward with a revised dredge project to fit within budget. Project management is working out details of project limits and will be working on a bid package in the coming months.
Budget
| Phase | Cost |
| --- | --- |
| Engineering | $98,930.00 |
| Construction | $350,000.00 |
| Total Budget | $448,930.00 |
Funding source(s):
This project is funding by the Pirate Harbor MSBU
Schedule
| Phase | Estimated Start Date | Forecast Completion | Actual Completion |
| --- | --- | --- | --- |
| Planning and Approval | 03/10/2021 | 11/04/2021 | 11/04/2021 |
| Design Development | 02/02/2022 | 02/15/2023 | |
| Construction | 06/15/2023 | 12/15/2023 | |
| Turnover & Closeout | 12/15/2023 | | |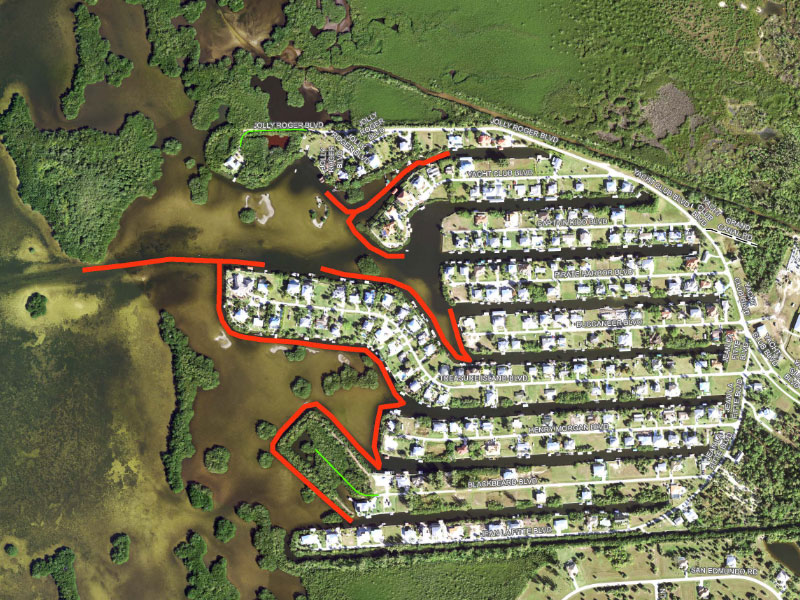 Project Phase
Design Development
Project Manager
Zach Patchell
Project Number
CMD2202.310.00000
Sponsor Department
Public Works
Design Engineer/Architect
Coastal Engineering Consultants
Construction Contractor
TBD