About the CRA

Charlotte Harbor Community Redevelopment Agency (CRA) was established by the Charlotte County Board of County Commissioners by Resolution 92-251 on November 3rd, 1992 by way of Florida Statute 163.356. Since then, a linear park along the shore of Charlotte Harbor on Bayshore Drive has been completed and a new bridge has been built on Melbourne Street with decorative lighting in place. Central sewer and water lines have been installed setting the stage for opportunities for private investment. Specific architectural standards continue to enhance the historic character of the area and encourage pedestrian-friendly development. View More History
Public Purpose Statement: Revitalize the Charlotte Harbor area by promoting the ambiance of an old Florida waterfront community with its tree canopy.
Charlotte Harbor CRA Data Dashboard: Access key demographics, business, and housing data through the interactive data dashboard by clicking here.
Interactive Boundary Map
Recent Development
Sunseeker Resort - Sunseeker Florida, Inc. (Sunseeker) has purchased approximately 22 acres of land along the Peace River within Charlotte Harbor CRA for the development of Sunseeker Resort. The associated lots and interior streets have been vacated to create a contiguous acreage area. Infrastructure improvements along the Main Street area are complete, and construction of Phase 1 of the project is well underway with site plans for Phase 2 under review by County staff. For site progress updates, click here. For more information about the planned Sunseeker development, visit the Sunseeker web page.
Riverwalk (Project Section formerly known as Harbor Walk Phase 1A) - Live Oak Point – The Florida Association of County Engineers and Road Superintendents (FACERS) selected Live Oak Point as the recipient of the FACERS 2017 Local Agency/State Agency Collaboration Project of the Year. The project, according to Rebecca Price, FACERS Awards Chair, "is a wonderful example of how local agencies work hard to improve their communities." The Charlotte County Board of County Commissioners dedicated the newly named Live Oak Point on June 2, 2016.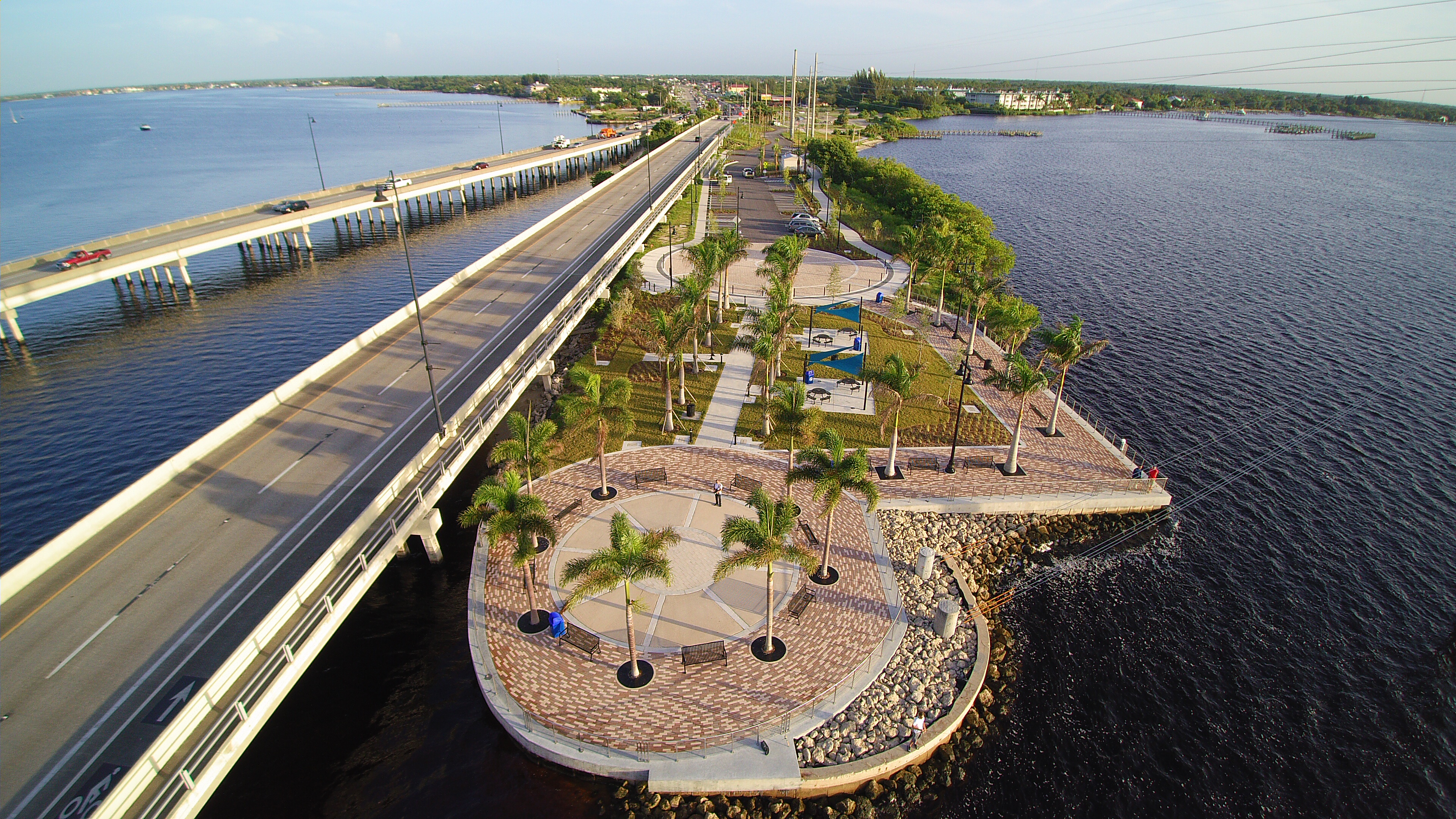 Riverwalk (Project Section formerly known as Harbor Walk Phase 1B) – On June 27, 2017, the Board of County Commissioners approved the construction contract to build Phase 1B of the project. This phase includes a raised boardwalk to connect Live Oak Point to the west side of US-41 sidewalk, a fishing pier, and water taxi dock. Funding for the $4.3 million was secured through six different funding sources: FDOT Enhancement Funds, Florida SUN Trail, FDEP Recreational Trail, WCIND, Charlotte County Boater Improvement Fund, and Charlotte Harbor CRA.

For more details, click the links below:
Riverwalk (Project Section formerly known as Harbor Walk Phase 2) - Includes the purchase of the property located at the corner of Melbourne and US41. This phase was funded by the 2015-2020 1% Local Sales Tax Option initiative. The property will allow for improved access to Live Oak Point Park, and the remainder of the property is expected to be included in upcoming private development. The property was purchased in September 2016.
Land Development Code - On November 22, 2016 the Board of County Commissioners adopted the proposed changes to the land development code specific to Charlotte Harbor. Click the following link to view. Land Development Code

Administrative Information
Budget and Financial Information
Contact
Port Charlotte, Florida 33948