What's New
West Port Development:
On March 25, 2021 the Charlotte County Commissioners joined Kolter Land and its partner builders for the dedication and ribbon-cutting for Centennial Boulevard in West Port. This event marked a milestone accomplishment for the development, as the newly dedicated roadway connects Highways US-41 and SR-776 though Murdock Village. From Centennial Boulevard, visitors and potential homebuyers can see new model home construction in progress, as well as landscaping, multi-use paths, and street lighting. Also click the following link to read the recent article from the Port Charlotte Sun.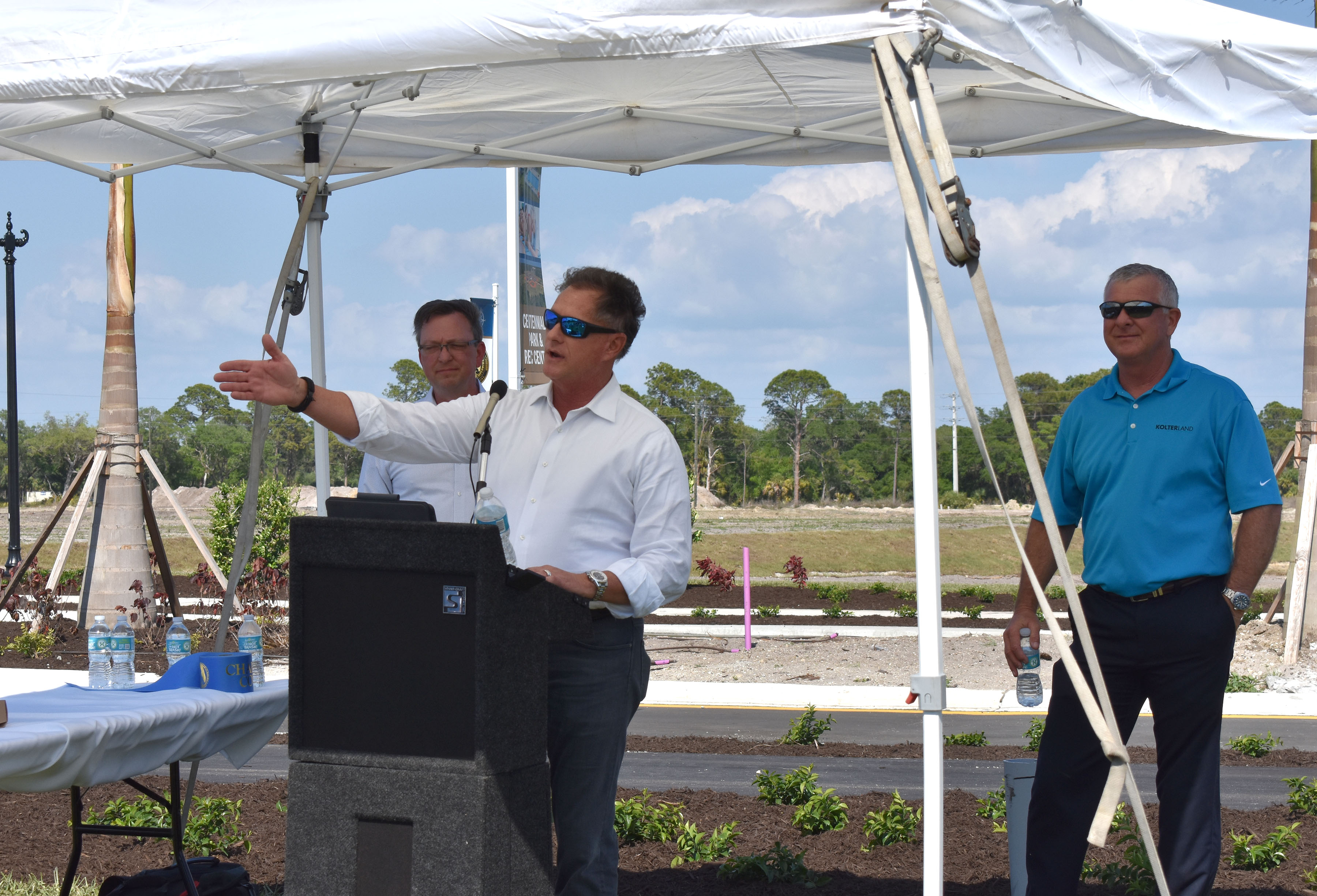 On August 12, 2019 the Murdock Village CRA and the Charlotte County Board of County Commissioners completed the sale of 452 acres of property in the Murdock Village Community Redevelopment Area to Private Equity Group, LLC (PEG). The agreement puts in motion a development that is projected to create up to 2,400 residential units, 200,000 square feet of retail area, along with commercial space and a 150-room hotel.

The agreement also commits the developer to making road and infrastructure improvements to Centennial Boulevard (formerly O'Donnell Boulevard), which will connect US-41 to State Road 776. The developer is also obligated to construct multiuse paths throughout the property, which will connect to Centennial Park (formerly North County Regional Park), and demolish and remove degraded roadways within the parcel.

Subsequent to the sale of property to Private Equity Group, Kolter Land Partners acquired a majority interest in the project.

Studies conducted by the County's consultant and PEG projected nearly $92 million in annual economic impacts from jobs created and economic activity. Over a 20-year period, construction activity is projected to be $400 million and 400 permanent jobs will be created. Also during that period, the tax revenue to all County taxing districts is projected to be $151 million over 20 years.
Arredondo Pointe: On September 17, 2020 the Murdock Village CRA and the Charlotte County Board of County Commissioners completed the sale of approximately 95 acres of property in the Murdock Village Community Redevelopment Area to Lost Lagoon Development, LLLP for Phase 1 of their Planned Development to be named Arredondo Pointe. Phase 1 construction will include a hotel and commercial area, along with public infrastructure improvements of Toledo Blade Boulevard and associated stormwater drainage and retention areas.

More project information can be found here:
More News
On July 13, 2021 the Board of County Commissioners adopted the fourth amendment to the Murdock Village Community Redevelopment Plan. The amendment provides for increased flexibility for developers with an updated vision statement and an updated mixed-use development plan.
In January 2017, the Board of County Commissioners and the Florida Department of Economic Opportunity entered into an agreement to outline the terms and conditions for the $40,000 planning grant the County received to evaluate and make recommendations on revisions to the Murdock Village Community Redevelopment Plan and associated goals, objectives and policies in the Charlotte County 2050 Plan. The first task was to conduct a Highest and Best Use Study with a distinct focus on developing a business and technology park in Murdock Village. This task was completed April 25, 2017. The Highest and Best Use Study analyzes the existing conditions from a demographic and real estate market perspective, providing baseline market statistics to inform potential development opportunities. The market assessment considers both local and regional market forces impacting Charlotte County. Ultimately, the findings presented in this document will be leveraged in the creation of an updated conceptual master plan for the site, blending a vision for the future with the market realities of Charlotte County. Murdock Village Highest and Best Use Study April 2017

Gateway Properties: The Gateway District is located between US-41 and the local streets of Franklin, Buena Vista, and Seymour. Florida Statute 163.380 defines the specific process that must be followed regarding the disposal of CRA-owned property. If you are interested in any CRA-owned properties in this area (click the map below) or would like to discuss this opportunity in greater detail, please contact Joshua Hudson in the Charlotte County Economic Development Office at (941) 764-4943.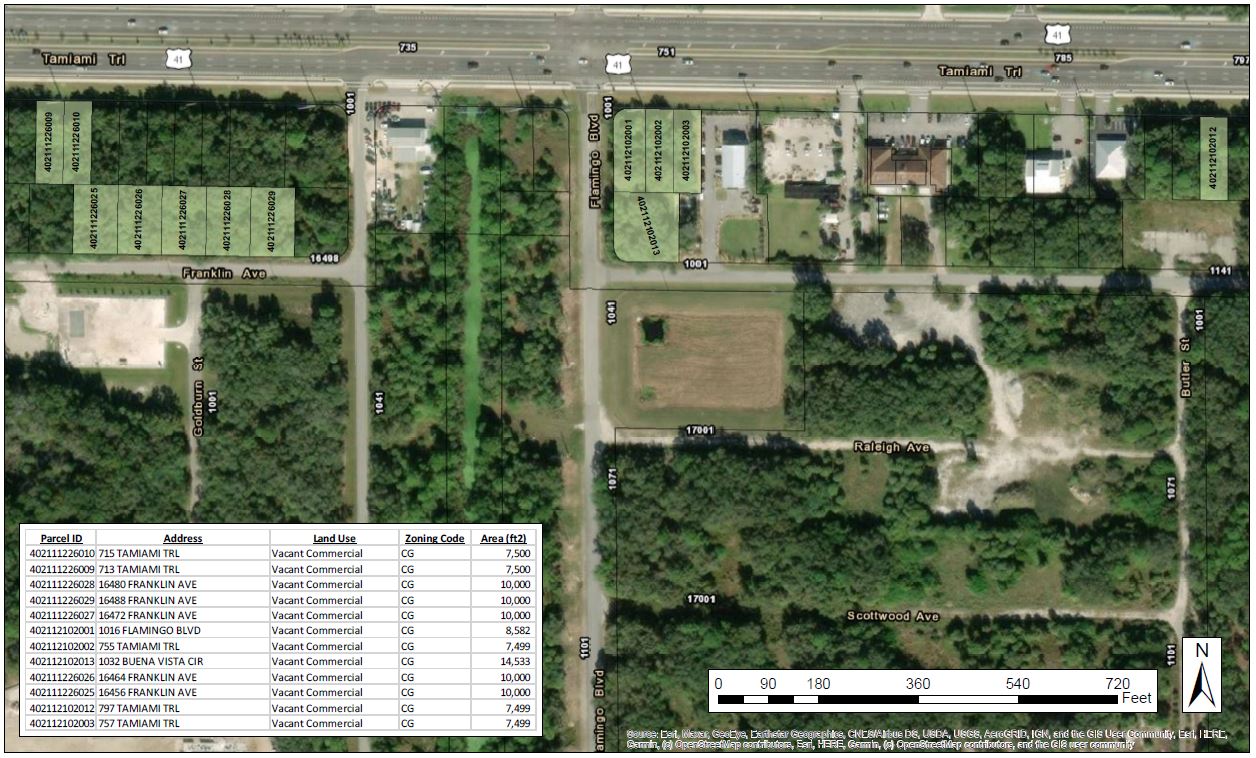 Click the image above to be redirected to the Charlotte County Virtual Site Selector Web Site
US-41 Widening: The Florida Department of Transportation's (FDOT) contractor, Guymann Construction Inc., has completed the widening, resurfacing and utility replacement project on US-41 from Enterprise Drive to the Sarasota/Charlotte County line (Salford Boulevard). This 3.6 mile project includes expanding the road from four to six lanes, making roadway drainage improvements, installing water and sewer lines, and replacing signals at Enterprise Drive, Toledo Blade Boulevard, and S. Cranberry/Cornelius Boulevards. The project includes new bike lanes and sidewalk on both sides of the road.

Development Opportunity: The Murdock Village CRA is seeking developers interested in public/private partnership to create a new destination in Charlotte County. Development opportunities include both commercial and residential offerings. The Murdock Village site is located within one mile of the spring training complex of the Tampa Bay Rays baseball team. Charlotte Harbor, offering world class fishing and sailing, is less than five miles away, and the Gulf of Mexico's beautiful beaches are only a thirty minute drive from Murdock Village.
Charlotte County is seeking one or more developers to create a public/private partnership to redevelop this prime real estate into a mixed use designation. Please call the Charlotte County Economic Development Office at (941) 743-4943 to discuss this opportunity.
Interactive Boundary Map:

Murdock Village CRA was established by the Charlotte County Board of County Commissioners by Resolution 2003-081 on May 27, 2003 by way of Florida Statute 163.356.
Public Purpose Statement
Murdock Village is envisioned to be a mixed use, integrated development which provides for the needs of current and future populations through creating a destination which provides:
Charlotte County and the surrounding southwest Florida area with a mix of attractions, housing and employment.
Distinct "neighborhoods" that serve as the basic building block of the community.
A variety of uses which provide for a vibrancy in the community including entertainment, retail, educational and open spaces.
An impression of economic stability and a sense of place, which adds to the livability of the area.
An area and identity that differs from the current (traditional) development patterns and opportunities experienced in Charlotte County and the surrounding municipalities.
An attractor which takes advantage of its location and regional assets including beaches, sports complex, and transportation resources.

For the long

‐

term viability of economic development and sustainable development practices which create distinct opportunities for future development.
Administrative Information
Budget and Financial Information
Murdock Village Community Redevelopment Agency Advisory Committee
The Board of County Commissioners (BCC) is the governing body of the Murdock Village Community Redevelopment Agency (CRA) and has appointed the Murdock Village CRA Advisory Committee to make recommendations on the use of tax increment revenues and legislative items. To learn more about the Advisory Committee, click here.
Contact
Economic Development Office
Joshua Hudson, Redevelopment Manager
18501 Murdock Circle, Suite 302
Port Charlotte, Florida 33948
(941) 764-4943
Email: Joshua.Hudson@CharlotteCountyFL.gov
Registered Agent:
Hector Flores, Executive Director of Murdock Village CRA
18500 Murdock Circle
Port Charlotte, Florida 33948