​The Commission for Accreditation of Park and Recreation Agencies (CAPRA) recognizes departments throughout the United States for excellence in operation and service. To achieve this national accreditation, there are 151 standards that need to be met based upon administrative policies and procedures, programs and activities, budgeting, personnel, maintenance and facilities, land management, purchasing, staff training, safety, and current industry trends.
In September of 2017, Charlotte County Community Services achieved this national accreditation. Community Services will seek reaccreditation in the Spring of 2022.
Benefits of CAPRA Accreditation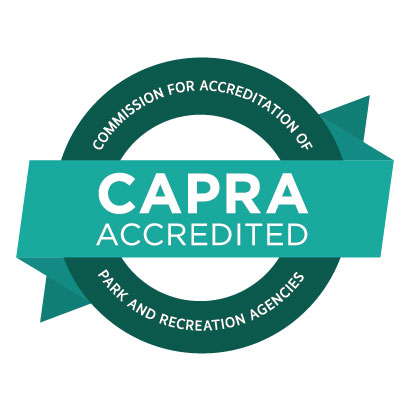 High Level of Quality Services
Through compliance with the standards of excellence, CAPRA accreditation assures administrators, policy makers, departmental staff, and the general public that an accredited park and recreation agency has been independently evaluated against established benchmarks as delivering a high level of quality services.
Best Practices
Accreditation serves as an essential management tool for each organization as the process of self-assessment and peer review enables the agency to establish national standards of best practices.
Quality Assurance and Quality Improvement Process
Every park and recreation agency is concerned with the efficiency and effectiveness of its operations. With the importance of park and recreation programs, services, and activities to the quality of life, each agency has an essential role in the lives of the people it serves. CAPRA accreditation is a quality assurance and quality improvement process demonstrating an agency's commitment to its employees, volunteers, patrons, and community.
Strong Performance Standards
Through the required mandates for operational policy updates, the accreditation process ensures that manuals and checklists such as Crisis Management Plans, Hurricane Preparedness Plans, Safety Checklists, and Maintenance Checklists are revised and performed on a regular basis to ensure strong performance standards.
Departmental Functionality
Accreditation enables each agency to take an in-depth look at the functional capabilities within the organization while solidifying their strengths, their challenges, and, most importantly, the opportunities that exist to provide the services that support our community.
Public Involvement and Support
Through the involvement of public officials and our patrons, agencies are able to strengthen their position with respect to operational policies and procedures along with the development of comprehensive master plans.
Validation and Credibility
Accreditation allows the organization to gain validity, credibility, and positive recognition as a department that has exceeded operational expectations and functions as a highly efficient governing body.
Accountability and Feedback
By achieving the enhanced standards for quality services, the public can expect a staff that's responsive to the needs of the community and ensure the very best facilities and services within the financial means of the agency.
Grant Application Process
Accreditation can place each agency in a better position to apply for and receive federal and state grants due to the amount of information gathered to meet the required standards. Data is readily available for submittal and the organization is already recognized as a high functioning operation.
Potential Cost Savings and External Financial Support
Through the required standards of accreditation, agencies make decisions based upon efficiency and the needs of the community thus creating an operational cost saving in labor and supplies. In addition, the opportunity to gain program and event sponsorship are more readily available for an organization that is showcased as effective, well-managed, and high performing.
Staff Motivation
In addition to various operational benefits, the achievement of accreditation results in increased staff morale and motivation through the promotion of organizational excellence and professionalism. The shared experience fosters a climate of team building through the development of an action plan and the input of all staff members to ensure greater organization efficiency and effectiveness. As a result, staff members have a greater understanding of the roles performed within the department and work together as a team to attain the goals of the agency.
Overall Commitment to Excellence
Accreditation demonstrates the commitment to the community, the agency's administration, the staff members, and the volunteers who support the programs, events, and services that are organized and produced by the department.
About CAPRA Accreditation
What it Means to be an "Accredited Agency"
Many professions have an accreditation process; including, but not limited to, hospitals, universities, fire and police departments, and some non-profit organizations. To achieve accreditation, an agency must fully assess their policies, practices, procedures, programs, and facilities.In February of 2017, Community Services submitted a Self-Assessment that addressed 151 internal standards of both the Recreation Division and the Parks & Natural Resources Division. These standards undergo an extensive review process from supervisory staff members, internal County departments, and outside groups.
Who grants accreditation status to an agency?
The National Recreation and Parks Association (NRPA) has an appointed board from several disciplines, referred to as the Commission for Accreditation of Park and Recreation Agencies. The CAPRA board consists of representatives from the NRPA, County Administrators, City Managers' Association, Higher Education, and the Armed Services. The CAPRA board evaluates the Self-Assessment and assigns a Review Team comprised of park and recreation professionals to visit the agency and confirm each of the 151 standards for compliance. This Review Team is on-site for four (4) days and then submits their official report to the NRPA board. The Charlotte County visitation occurred in May of 2017.
When were we notified that we had achieved accreditation?
We were officially recognized as an accredited agency at the NRPA Conference in New Orleans in September of 2017.
As a resident of Charlotte County, what does accreditation mean to me?
As a resident, you can expect a high level of customer service and a staff that is responsive to your questions and issues. It means you can go to a park or sign up for a program and expect the very best facilities and service within our financial means. In addition, accreditation will place us in a better position to apply for and receive federal and state grants because we meet the standards which directly affect the facilities, programs and services offered to residents.
Standards to be Met to Achieve Accreditation
There is a total of 151 standards. These standards involve Administration, Planning, Human Resources, Financial Management, Programs and Services, Facility and Land Use Management, Public Safety and Security, Evaluation and Research, and Risk Management. Each standard requires evidence of compliance to fulfill the mandatory requirements.
How long is accreditation good for?
Accreditation is granted on a five-year cycle, starting from the date of the initial accreditation.
Is there any cost to me as a taxpayer?
There are no additional costs for taxpayers as all accreditation fees are budgeted within the operation.
How to Help
Provide us feedback on the programs, services and facilities you patronize by responding to our surveys, comment cards, kiosks, etc.
Be an advocate for improving and maintaining our quality of life standards in Charlotte County by attending our Public Meetings with your insight and recommendations.
Spread the word to your friends and family that we've gained national accreditation which will benefit our entire community.
Where can I learn more about CAPRA?
The National Recreation and Parks Association website is a great starting place.
CAPRA Testimonials
Ken Doherty (Charlotte County Commissioner) – The achievement of national accreditation for Charlotte County is a tremendous accomplishment for our patrons and our community. As a Commission, we have established Focus Area Goals. One of our goals is Quality of Life which shows our commitment to delivering exceptional public service to our residents and customers; critical, also, for our efforts to attract businesses to invest in our community. This accreditation is one example of how we're exceeding the professional standards within our parks and recreation divisions.
Ray Sandrock (Former County Administrator) – As the 7th county in Florida and one of only 165 agencies in the United States to achieve this recognition, national accreditation is the commitment we've made to provide efficient and effective operations within parks and recreation for Charlotte County. We're tremendously proud of our staff members for their efforts in pursuing and accomplishing this highest level of recognition for our community.
Kelly Shoemaker (Former Deputy County Administrator) – This national accreditation has positioned us to provide the highest level of service for our community within parks and recreation. We have been able to use the 151 required standards as a benchmark for continuous improvement by ensuring that we review, update and document our procedures, guidelines and policies. It's also given us the opportunity to partner with our internal departments to ensure best practices which is a tremendous benefit to our entire organization.
Tommy Scott (Director of Community Services) – We strive each and every day to exceed the expectations of our patrons. The self-assessment process and peer review required for national accreditation has succeeded in providing tremendous insight into our operations and a means for us to measure if we're exceeding professional standards. We were able to involve our staff members in the accreditation process to ensure a team effort and have proudly displayed the CAPRA logo in our facilities.
Bill Dryburgh (Chairman of the Parks & Recreation Advisory Board) – As a member of this Board for the last 14 years, I've had the pleasure of being involved in some major accomplishments within parks and recreation. My profession requires me to move around the county each day. I pass a lot of our parks and see them filled with families taking advantage of all our parks have to offer. To attain national accreditation is an achievement that brings a bigger spotlight to all of the great amenities offered within our community.