​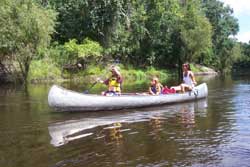 Kid's Camp Connection is a Scholarship Program for the Charlotte County Community Services Summer Day Camp. Your contribution is needed to provide children the opportunity to go to camp this summer. Based upon your contribution, a child could go to camp from one to eight weeks. The program offers recreational and fitness experiences for children between the ages of 5 and 13 years of age. Just fill in the donation card and don't forget that your contribution is tax-deductible.
Our department is proud of its accomplishments. Last year the department served over 1,475 children at six different locations throughout Charlotte County. The Community Services Department Summer Day Camp is a fee based program, one that is self supported. There is a strong need to provide help for children to participate in the summer camp programs.
We do not want to turn away a child who plays on the playgrounds daily or shoots baskets in our open gyms, yet he or she cannot participate during the summer months because his/her parents cannot afford the fee. We desperately want to eliminate this circumstance which is why we are reaching out to the citizens of Charlotte County.
Our department's goal is to raise enough money to provide financial assistance for as many Charlotte County children as possible, so they may experience all the wonderful benefits summer camp has to offer. Please fill out the donation card and return it to:
Charlotte County Community Services
670 Cooper Street
Punta Gorda, FL 33950
If you should have any questions about the Kid's Camp Connection, please call 941.505.8686.