How To Know If You Are At Risk Of Flooding
The following maps show areas vulnerable to the different levels of storm surge and areas subject to flood from a 1% chance or 100-year rainfall event and a 0.2% chance or 500-year rainfall event.
Related Links
Evacuation Zone Map
This map shows evacuation zones – these are linked to storm surge only and relate to when you need to evacuate if instructed to do so. The colors on this map correspond to color bandings you will see on street signs in your area.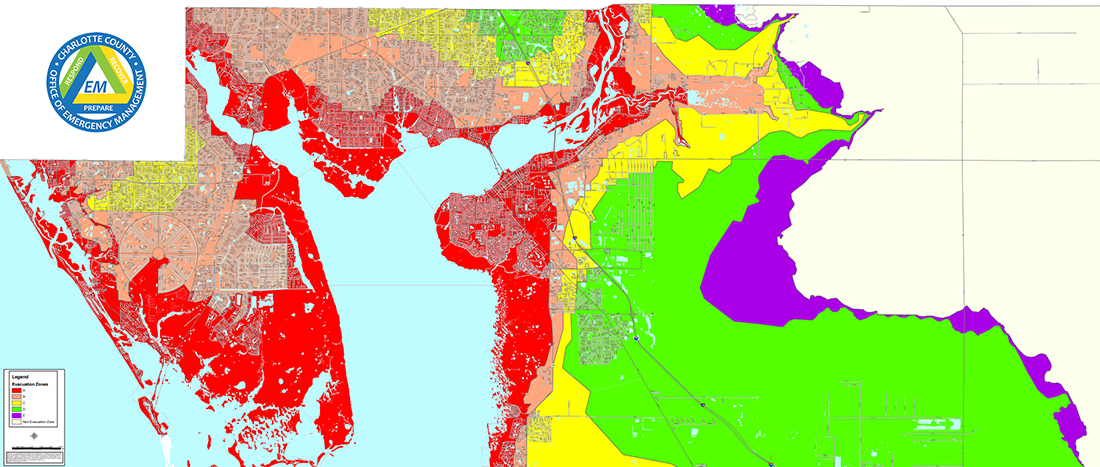 Evacuation Zone Map
Flood Zone Map
This second map shows the various areas at risk from flooding in the County. Please remember though that just because your property is not in a high risk area, does not mean that you will not experience flooding. Charlotte County has many flooding hazards and these hazards do not follow a line on a map.


Flood Zone Map
​For information on the flood risk to a specific property, to find an Elevation Certificate, or Letter of Map Amendment for your property, please visit the Charlotte County GIS Mapping site at www.ccgis.com. By entering the mapping site you can input your address and click on the Parcel ID. This will direct you to another site that has information on the property.