The Utilities Department provides potable water, wastewater treatment and disposal and reclaimed water for irrigation, serving over 60,000 homes and businesses throughout unincorporated Charlotte County.
As a department of Charlotte County Government, all departmental policies and rates are established and reviewed by the Board of County Commissioners. The utility is a separate government-owned enterprise that is fully funded by customer rates, fees and charges, not by ad valorem tax dollars.
The Utilities Department consists of four divisions: Administration, Business Services, Engineering and Operations. ​The Utilities Department is led by the Utilities Director, who works under the direction of the County Administrator and Deputy County Administrator.
Mission: To provide safe, reliable drinking water, reclaimed water and wastewater service for the enrichment of the community. We are proud of the wide range of exceptional services that we provide our customers 24 hours a day, 7 days a week, all 365 days a year!
Vision: To enrich our community's quality of life by providing reliable utility services that fulfill future demands.
Values:
Committed – to public and environmental safety as good stewards of what we have been given.
Accountable – to the public through transparency and honesty.
Resourceful – efficiencies through collaboration, teamwork, technology and defined processes.
Energetic – Providing exemplary service that exceeds our community's expectations.
Supportive – by striving to meet the needs of the public and our environment.
Business Services
Business Services includes Customer Service, Billing & Collections and Meter Services, and is overseen by the Business Services Manager.
If you have a water or sewer emergency, please call us day or night at 941.764.4300 or toll-free 800.524.3494 if out of the area. We have a 24/7 response service.
Customer Service Phone Hours: 8:30 a.m. to 4:45 p.m. Monday through Friday
Customer Support Center Hours: 8:30 a.m. to 4:30 p.m. Monday through Friday
Utilities Administration Office: 8 a.m. to 5 p.m. Monday through Friday
East Port Environmental Campus
25550 Harborview Road, Suite 1, Port Charlotte, FL 33980
Phone: 941.764.4300
TDD: 941.764.4535
Fax: 941.764.4557
Email: CCUSupport@CharlotteCountyFL.gov
Visit us on Facebook
Mailing address:
Utilities Department
P.O. Box 516000
Punta Gorda, FL 33951-6000
Engineering
Engineering provides full engineering and inspection services to residential and commercial utility customers, and overseen by the Engineering Services Manager.
Phone: 941.764.4300, Option 3
Fax: 941.764.4319
Residential and Commercial Availabilities and Locates: 941.764.4300, Option 3
Operations
Operations is responsible for the operation and maintenance of all County owned and operated water, wastewater and reclaimed water facilities, including plants, booster stations, lift stations, fire hydrants, valves and the entire distribution and collection system. It is overseen by the Utilities Services Manager.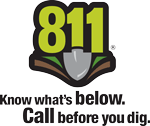 Call 811 or visit from anywhere in Florida two full business days before digging. Tell the operator where you're planning to dig, what type of work you will be doing, and your affected local utility companies will be notified about your intent to dig. In a couple of days, they'll send a locator to mark the approximate location of underground lines, pipes and cables in your yard, so you'll know what's below - and be able to dig safely.