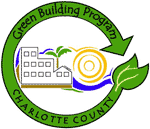 The Green Building Program has been developed to help Charlotte County become a more sustainable community by reducing the environmental impact of buildings, and promoting economic and environmental health in the county. The program is designed to encourage environmentally sensitive construction and development. During construction, the builder has the option of placing a "Charlotte County Green Building" sign on the job site. Upon completion of the building, a permanent sign can be placed on the building verifying that it has been certified as a Charlotte County Green Building. As you review the program, check to see how you rate today as a green builder. You may be surprised how close you are and what few changes you may need to make to participate in and benefit from the Green Building Program. The program is voluntary and open to all builders in the county.
Incentives
The program incentives include:
Fast-track permitting.
Marketing enhancement.
Consolidate company's environmental image.
Charlotte County Green Building Program support.
Participation in the Green Building Awards Program
Special recognition to leading participants.
Possible reduction in parking requirements for commercial projects.
Possible increase in floor area ratio (FAR) for commercial projects.
Requirements
Any single family or commercial building can be submitted by a builder for consideration in the Green Building Program. All projects considered for the program must meet the standards and get certified by an accredited Green Building Program. These include the:
Those enrolled should attend at least one county-sponsored Green Building workshop once a year. If a project fails to meet the requirements for the Green Building Program, the following consequences may apply:
Any project that fails to receive green certification from a rating/certifying agency will not receive any reductions of fees.
Any project which received reductions in fees that is damaged or substantially improved by more than 50% within 5 years shall rebuild or build to green standards or shall pay back the fee reductions.
Projects failing to meet their committed level for parking reduction will face a monetary penalty.
Commercial projects failing to meet their committed level for floor area ration (FAR) will face a monetary penalty.
Enrollment
The following steps are required of applicants to qualify their project for the Green Building Program:
Make an appointment for a Green Building Program pre-application meeting by contacting Julia C. Galofre, NCARB, LEED APPlans Review Manager Charlotte County Community Development Department 18400 Murdock Circle, Port Charlotte, FL 33948 Phone: 941.743.1215 email Julia.Galofre@CharlotteCountyFL.gov.
Prior to attending the meeting, complete the enrollment form below and have ready all the required documents:

Completed scorecard/checklist from the rating/certifying program listed under the Program Requirements on this page.
Proof of registration of the project with the approved rating/certifying program.
Download the Green Building Program Enrollment Form.