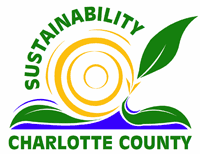 Charlotte County is committed to protecting our natural resources and preserving our beautiful county. Various departments within Charlotte County are working towards a more sustainable future that is driven by our Mission—To be the energy in making Charlotte County a beautiful and enriching place to live—and by our Stewardship Vision: being committed to being good stewards of our resources.
The term "sustainability" is used in Charlotte County to describe activities that include, but are not limited to, the following goals: efficient energy use, increased economic opportunities, improved environmental protection or restoration efforts, and smart growth that promotes livable communities.
Green Local Government Certification
Charlotte County government has been certified as a Green Local Government by the Florida Green Building Coalition (FGBC) after demonstrating Green practices in its department functions. The FGBC is a non-profit third party certifier and their standard presents a comprehensive list of criteria organized in terms of local government department roles. The standard does not only serve to evaluate the County's current level of sustainability, but also is used as a process to improve performance, increase productivity and save money and other resources in the governmental operations.
Efficient Energy Use
Energy efficiency is considered in all new projects, renovations and retrofits. These projects reduce energy consumption and result in energy cost savings. A typical energy efficiency project has a return on investment of 6 years. In other words, a project must pay for itself in energy savings in 6 years.
Increased Economic Opportunities
The Economic Development Office's mission is to encourage the recruitment of diversified high impact industry to the county, to create high skill, high wage jobs, and to help diversify the economy and create a sustainable tax base. Our economic development portfolio has recently been expanded to include additional target industries, which are: Green Technologies, Renewable Energy, Medical Information Technology, and Life Sciences. These industries now qualify for various County and State incentives.
Environmental Protection or Restoration Efforts
Along with Charlotte County's value of stewardship our Natural Resources Division helps to protect, restore, and conserve the environmental resources of Charlotte County, such as the valuable ecosystems, along with plant and animal species.
Encouraging Smart Growth
Charlotte 2050 Comprehensive Plan was adopted by the Board of County commissioners on July 20, 2010.
Contact
Julia C. Galofre - Building Code & Sustainability Specialist
Julia.Galofre@charlottecountyfl.gov
Phone: 941.743.1215