Administration
Jason Fair
Public Safety Director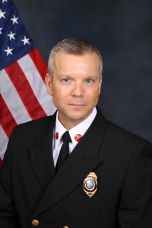 Jason.Fair@CharlotteCountyFL.gov
As a Florida native, Jason began his professional career in Public Safety in 1992. His career has spanned an array of specialties including fire, EMS, Urban Search and Rescue, Swift-water and Urban Flood, Hazardous Materials and Emergency Management. Across these fields he has moved through the ranks in both private and public service.
In 2008 Jason came to Charlotte County Public Safety as Deputy Chief of Fire and Special Operations. He represents Region 6 as the State Emergency Response Plan Coordinator and serves on various Committees as part of the State Working Group on Domestic Preparedness. Additionally, Jason serves as State Emergency Response Team Liaison to the State Emergency Operations Center.
He has been a Special Operations Instructor and Foreign Affairs Expert in Emergency and Disaster Management and Response since 2003, consulting/instructing civilian and military throughout the US, Caribbean and Asia.
In Jan. 2021, Jason was promoted to Public Safety Director and Chief of Charlotte County Fire & EMS.

Michael Davis
Deputy Chief
Michael.Davis@CharlotteCountyFL.gov
Michael Davis is a Southwest Florida native, his career in Public Safety began as an EMT in 1993 and advanced to a Paramedic soon after and then to a Paramedic II with Lee County EMS. During this time, Davis obtained his Air Medical Crew Certification allowing him to transport patients on a rotor wing aircraft.
In 1999, Davis attended the Fire Academy and was hired as Estero Fire Rescue's first Paramedic to run ALS non-transport as a Firefighter/Paramedic. During this ten years with Estero, Davis was promoted to the rank of Lieutenant.
Education has been an important part of his career. Davis holds an Associates in Science Degree in both Fire Science and Emergency Medical Technology, as well as a Bachelor's Degree in Management from Hodges University. He has also attended the National Fire Academy.
In 2008, Davis came to Charlotte County Fire & EMS as a Firemedic. Davis has consistent involvement in training and education, serving both Private and Public sector. Davis was then promoted to the rank of Fire Training Captain in 2014.
In 2017, he was promoted to the rank of Deputy Chief.
Todd Dunn
Public Relations Manager / Public Information Officer
Todd.Dunn@CharlotteCountyFL.gov
Todd Dunn is a Florida native who grew up in Englewood. Prior to joining the county in 2014 as the television production specialist, Todd spent two decades working in television news. Over his news career, he worked in several television markets including Ft. Myers where he covered Charlotte County. He spent 16 years at WKRN in Nashville, Tennessee. After becoming a father, Todd moved his family back home to Englewood, Florida where he lives today.
Todd joined the Charlotte County Fire & EMS team as the public relations manager in August 2018. In this position, he serves as the public information officer handling media relations, public education programs and scheduling crews for public appearances.