Charlotte County Community Services invites you to experience nature's beauty at one of your environmental parks or preserves. Walk through the beautiful pine flatwoods and wetlands at Charlotte Flatwoods, bring your binoculars to view migratory and wading birds around Lemon Lake at Amberjack or hike to top of "Mount Tippecanoe" for a scenic view. Come and explore natural Florida in Charlotte County.
Difference from a Preserve and Environmental Park
Preserves are generally larger environmental parcels with less urban interface and sensitive environmental habitats that are important to the community and are the guiding influence for management. Management of preserves will focus on environmental preservation and resources first and foremost with more intensive management and monitoring. Preserves have limited public use, less programming, and less structures/amenities.
Environmental parks are typically smaller in size than preserves, have more urban interface, and may have some sensitive environmental habitats that are less important to the guiding influence of management. Management will focus not only on environmental preservation, but will also manage the natural resources from a human dimension. There may be less intensive management and monitoring in an environmental park; however there will be more public use, more programming, more interpretive features, amenities and multi-use trails.
Environmental Lands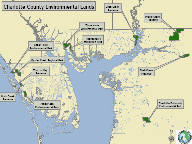 Conservation Charlotte Preserves
Environmental Parks
Trail Maps